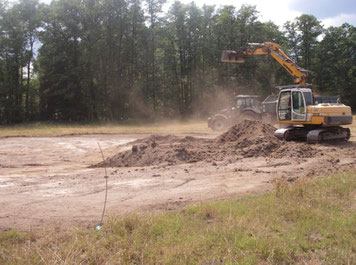 13.08.2019 - Ten new ponds are currently being created in the nature conservation area Schweinebruch on land owned by Celle Town Council. This work is part of the LIFE project Floodplain Amphibians.  They are intended to serve the tree frog as breeding ponds. The tree frog only occurs in individual specimens in this area. In addition, two existing ponds are being enhanced. One further pond had already been cleared of vegetation casting a shadow during the winter.
Extensive preparatory work had been required, before the site work could start. It was particularly important to establish the ground water levels throughout the year. This is of particular importance for the water level in the ponds later on. The aim is that the ponds are filled with water for a sufficient period, so that tadpoles can successfully transform into young frogs. Later during the summer however, the ponds are supposed to dry out, so that fish and other predators of spawn and tadpoles cannot permanently settle in the ponds.
Celle Town Council provided the land for the creation of new ponds. Celle town council also supports the project financially. The sites are grassland areas being grazed extensively. In the future the ponds should also be grazed to prevent the rise of vegetation casting a shadow and the silting up of the ponds.
"Together with the ponds, which Celle Town Council has already newly created, this area here will see the creation of a habitat for the tree frog. It is large enough, so that the tree frog can survive in the long-term", explains project manager Dr Markus Richter. "Outside the nature conservation area, the tree frog can hardly find any suitable habitats".
Image headings:
The current drought favours the site works at Schweinebruch (photo: M. Richter)
Creation of a new pond at the Schweinebruch site (photo: M. Richter)
White storks at one of the newly created ponds (photo: M. Richter)