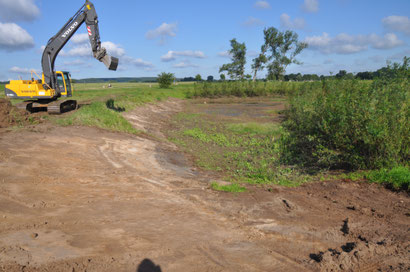 In the Lower Saxony part of the river Elbe valley 10 new breeding ponds were created during the second construction phase. These new water bodies will serve the fire-bellied toad as a breeding pond and feeding habitat. In addition one ditch was redesigned and three new wintering habitats were created.
The contract for the second construction phase in the area "Großer und Kleiner See" in the parish of Neuhaus had already been awarded to a regional company in 2017. The creation of the water bodies however could not be delivered in the summer and autumn of 2017 due to prolonged rainfall. In 2018 the picture was completely different. The extreme drought enabled the start of the earthworks as well as a problem-free and fast delivery.
There are now a total of 20 new and three restored ponds available to the fire-bellied toad in the new refuge area at the "Großer und Kleiner See". The aim in this large-scale pasture area is to create an attractive habitat for this species.