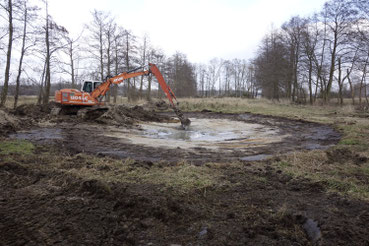 As part of the LIFE project floodplain amphibians, NABU Lower Saxony is currently creating six new breeding ponds for rare amphibians at the edge of the nature conservation area Ilker Bruch within the city of Wolfsburg. They will primarily serve the tree frog as breeding ponds. This rare amphibian has its most important occurrence in the catchment of the river Aller at the Ilker Bruch and the surrounding areas.

This population needs safeguarding and strengthening, explains project leader Dr. Markus Richter from NABU Lower Saxony. The local branch of NABU Wolfsburg and the City of Wolfsburg have provided these areas for the conservation action.
A further aim of this activity is the creation of a suitable habitat for the fire-bellied toad. "Together with other water bodies, which we want to create in the autumn of this year, they should create the conditions for a reintroduction" explains Dr. Richter. The fire-bellied toad used to have numerous occurrences along the river Aller, but has been extinct for a few decades. The area Ilker Bruch and its surroundings offer ideal conditions for the reintroduction, if a sufficient number of new ponds is created. A decision about the actual reintroduction will only be made once it is established, that the water bodies meet the needs of the species, explains Richter further.
NABU operations manager Joachim Neumann had to deal with much more practical questions. A specialised company from the region had already been commissioned in late summer to do the earthwork. The ongoing higher levels of rainfall during the whole of the second half of the year made the execution of the work impossible. Again and again the start of the earthworks had to be rescheduled. "The dry weather of the recent days caused the water levels to drop, so that an attempt to deliver the work was undertaken." Up to now everything is going well. I think we'll manage" says Neumann with confidence.
Photo: Earthwork for amphibians in Wolfsburg (Photo credit: Joachim Neumann)
---