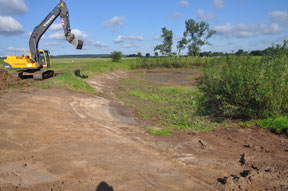 July 2016
The first practical measures as part of the LIFE Floodplain Amphibians project have started by commissioning a local building company with the works.

This will shortly create 10 new breeding ponds and restore three existing ponds for fire-bellied toads in the River Elbe floodplain in the parish of Neuhaus.
One further larger pond will be redesigned to meet the requirements of the fire-bellied toad. The ponds will serve as feeding and breeding habitats. In addition, smaller and larger ditches in the surrounding area will be blocked.

This will re-wet the whole area. Shallow floodings will form in spring that will warm up quickly. This is a preferred habitat for fire-bellied toads migrating from their overwintering habitats.
---